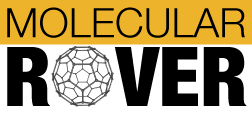 About the Molecular Rover Project
We are developing and applying new educational technology tools for student exploration of complex molecular structures. The software will recognize forces and allow students to navigate around and through molecules. With virtual probes, students will be able to assess the forces among molecules that shape structures such as DNA, proteins, ionic lattices, or cell membranes, thus providing a profound introduction to nano- and bio-technology. This approach could drive substantial improvements in science courses at both high school and college levels.
The project intends to develop the most interactive environments for atomic-scale systems that are feasible in today's classrooms using standard personal computers and available networking. We have identified three kinds of interactivity that will contribute to substantially improved un-derstanding of atomic-scale phenomena:
Using a Rover to explore molecular structures and motions. A Rover, controlling the viewer's perspective, will be able to steer around in a molecular system that could be static or in motion determined by molecular dynamics. The primary educational value of this involves understanding the shape and thermal motion of atoms and molecules.
Using a Rover to sense and apply forces and torques. The Rover can be subject to atomic-scale forces, detect forces with probes, and exert forces and torques. The primary educational value of this involves understanding the inter-atomic forces on atoms and molecules and their responses to external forces and torques.
Using a Rover to experiment with molecular binding. The Rover will be able to select test molecules, move them, and deposit them to create structures held together with realistic atomic-scale forces. The primary educational value of this involves understanding the struc-ture of molecules and assemblages of molecules.
The goal of the Molecular Rover project is to improve student learning of the molecular under-pinnings of science at all grades, from high school to college. To this end, the proposed project will build and study innovative molecular dynamics systems that include a Molecular Rover with the functionality described above. To achieve this goal, the project will be organized around the following objectives:
Develop the Molecular Rover. The project will develop an interactive 3D molecular dynamics engine that will include a steerable Rover that provides a viewing perspec-tive. The Rover will be used to select, move, and place molecules.
Embed the Molecular Rover in an authoring and logging system. The Molecular Rover will be embedded in the Workbench authoring system that supports embedded assessment based on student choices and logging of responses to questions.
Study student learning with the Molecular Rover. Learning activities written with the authoring system will be tested with high school and college students. Research will focus on student learning and the relative merits of 2D and 3D systems.
Disseminate. The project will make a major effort to disseminate the Rover model, learning activities, and the research results.
In achieving these objectives, we will learn how to make the best of virtual reality, computational research, and cognitive science available in today's science classrooms. This will result in "radical improvements in learning," while advancing research in learning, and cognitive science.
Copyright © The Concord Consortium, Inc.

These materials are based upon work supported by the
National Science Foundation under grant number REC-0537224

Any opinions, findings, and conclusions
or recommendations expressed in this material are those of
the author(s) and do not necessarily reflect the views
of the National Science Foundation.